(EST READ TIME: 2MIN) Since May, Europe has been experiencing dry and rising heat, with the risk of forest fires reaching the highest level in some areas. Many people are worried about the reoccurrence of the 2018 summer drought. Small fires are already burning in Norway, Sweden, Denmark, Finland, and Scotland.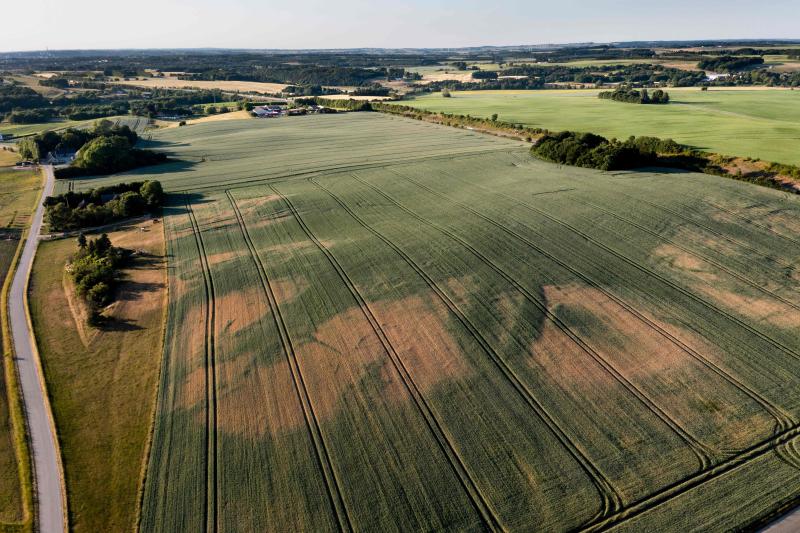 (Dry patches appear in corn fields due to drought near Randers, Denmark, on June 13, 2023. BO AMSTRUP / AFP)
The severely affected areas are in southern Finland and southwest Sweden. The normal average temperature in May is 10.5℃ and in June about 14.6℃. However, this year there were temperatures of about 20℃ in May and some days over 25℃ in June. The temperature is even higher in other parts of Europe. There has been little rain in some areas of the Baltic states, Spain, France, and Germany. Over the last 5-10 years, the climate has been about 1.5℃ warmer than the summertime average from 100 years ago. This negatively affects the annual crop situation for farmers and they are feeling the pressure of feed shortages and rising costs.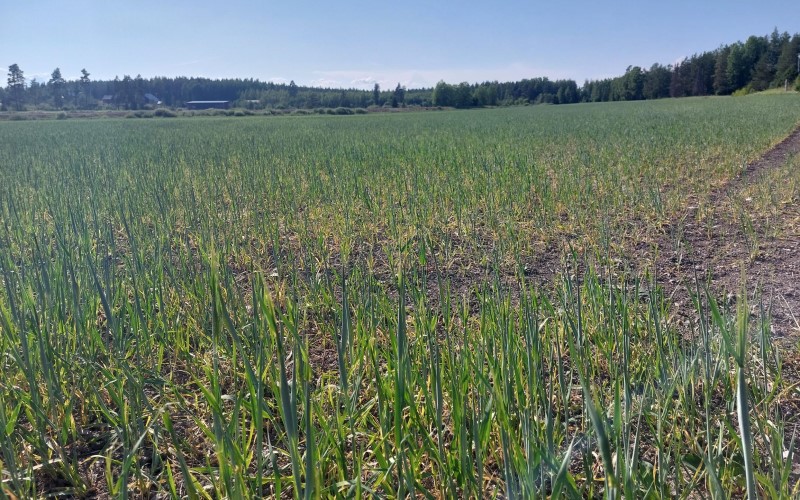 (Barley fields in drought spots in Borgå, Finland on June 27, 2023. Crop from fields like this will be less than 50% of normal crop/harvest.)
For all plants, the first rain is important and in many cases, this first rain is too little or nonexistent. There will probably be no "normal" crop or small amounts with suboptimal nutrient content this year. If cattle do not get the right amount of grass silage or low nutritional content, cows will have decreased milk yield or farmers will have to buy special food to compensate for the silage amount only if they have the resources and budget. In the worst cases, a farmer may have to reduce the number of cows (normally old / low lactated cows) and try to breed young calves (since they do not eat much).

The challenge lies in how to achieve precision feeding to enhance feed conversion rate and improve feed efficiency since feed cost accounts for about *75% of a milk producer's total cost per year. During drought, plants are severely deficient in protein, dry matter, and fiber. The amount of good nutrition is always best in the first crop. To maintain good milk yield, farmers can have more soybeans or other special ingredients and feed only the precise amount needed for dairy cows.

A precision diet can save energy and water and produce greater milk yields than those fed a standardized diet. To ensure that dairy cows receive sufficient nutrition and avoid waste, it is important to provide high-quality feed. This includes selecting high-quality forage grass, concentrated feed, and additives. The feeding amount should be determined based on the cow's body weight, milk production, and physiological state to avoid feeding too much or too little, which can reduce feed conversion. Feeding should also be done at a fixed time and in a consistent manner to help dairy cows develop regular eating habits and improve the adaptability of their digestive system.

Efficient feeding is not a problem for Sveaverken, a Swedish manufacturer founded in 1911 that provides innovative solutions for animal husbandry. Their automatic cattle feeder can precisely deliver forage to cows, ensuring each cow's nutritional requirements are met round-the-clock. With features such as frequent feed-pushing, long battery life, and automatic return-to-charging, the visual-guided robot guarantees feed intake and timing for dairy cows, effectively reducing forage waste and residual.

Sveaverken is dedicated to promoting sustainable development and tackling climate change through smart solutions for animal husbandry. The company aims to enhance production efficiency and minimize resource wastage through innovative farming infrastructure.