Grain transportation is a vital part of the grain handling process. It involves moving crops from the field to storage facilities, processing plants, or markets in a safe and efficient manner. To achieve this, we need reliable and durable equipment that matches various types of grains and feed. Sveaverken, a leading manufacturer of farm equipment in Nordic regions, offers a wide range of grain augers featuring simple and stable designs for various applications in grain or feed transportation.
What are augers?
Augers are sort of screw conveyors used to move grains from one place to another, usually from a silo to a truck and vice versa. They consist of a big tube with a spiral blade or flight that rotates around a central shaft or without a shaft. Augers are commonly used in the agricultural industry for grain handling or transportation.
Sveaverken assortment for grain augers
Sveaverken offers a variety of grain screws and augers for conveying in different sizes and capacities. The conveyors can be customized to match onsite conditions and capacity demand.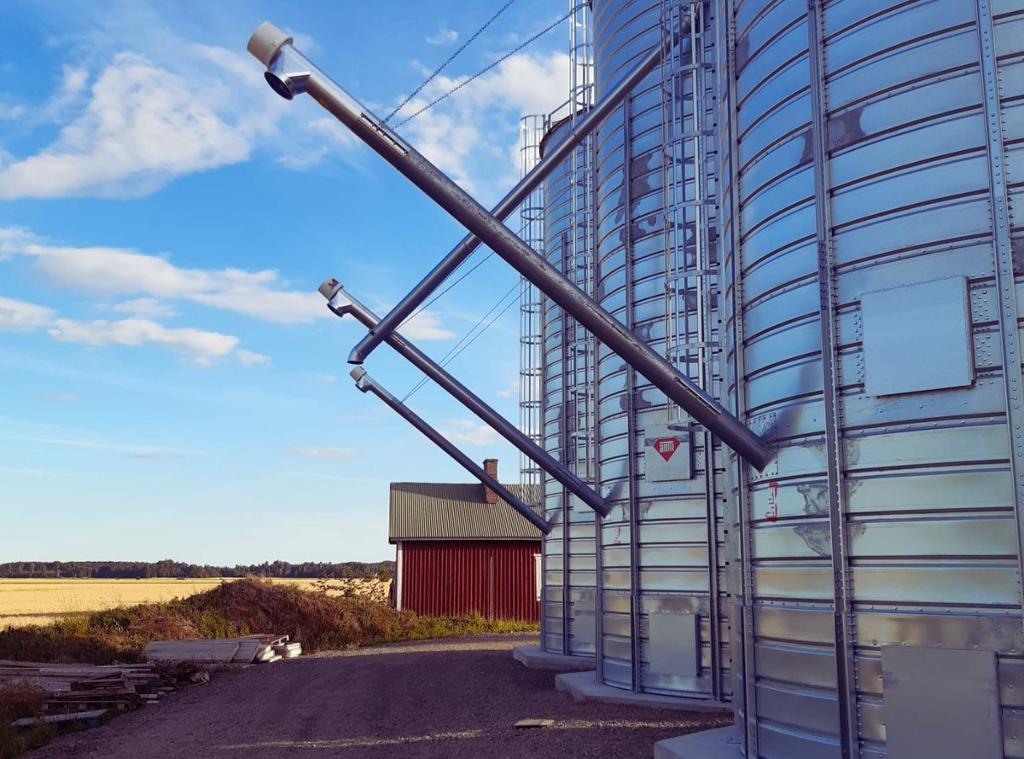 Horizontal augers. These are used to load silos on top or unload them in basement. SVEA RSU, designed according to the building kit principle, is easier to plan, store, deliver, and install. The product is used for grain handling with high capacity. It's adaptable to all kinds of conveying systems and can be used for the transport of not only grain but every kind of material in granulated, powdered, or pelleted form.
Inclined augers. These are used for moving grains at an angle, such as to bigger silos with flat bottom. Sveaverken stationary sweep auger is a drive unit with worm geared motor, powder-painted rigid beam, and intermediate bearings. Capacity for up to 60 tons of wheat per hour. The slip ring connected motor and the auger are adjustable lengthwise, making it fit into a wide range of silos.
Mobile augers. These are designed for easy transport and can be used in various locations. Jockey wheels are available as accessories for easier movement to be assembled into SVEA Allround series and mobile augers.
Screw conveyors. These are used for moving grains vertically, such as transferring grain that has dried on the ground to trucks or silos. SVEA discharge screw conveyor is adaptable to all kinds of conveying systems and can be used for the transport of not only grain but also feed and wooden pellets.
Feed/wooden pellets transportation auger: These are special augers for feed transportation or wooden pellets. For example, SVEA Flex is one of the flexible systems for the transportation of different types of feed. It is easy to assemble and the PVC pipes and coils made of spring steel make a long lifetime. It works with low noise levels and is energy efficient and gentle on the feed while keeping the same quality on the feed/wooden pellets during transport.
Control units. Sveaverken offers reliable and user-friendly controls when conveying grain in three models: Basic, Standard, and Premium. Control units are equipped to handle individual requirements when conveying grain. They are suitable for both single and complex conveying systems.
Advantages of Sveaverken grain augers
Sveaverken augers have many advantages, making it a premier auger manufacturer for farmers from Nordic regions over a hundred years.
Top structure article numbers. Applicable for any scale purchase in sets or spare parts, Sveaverken provides top-structure article numbers that allow you to order complete units or spare parts easily.
Customizable. Sveaverken grain augers are in standard parts which can be customized to meet your specific needs, such as size, capacity, and material handling requirements. Special solutions for the industry can be offered as well.
Combination and accessories. A variety of sizes and accessories for applications in farm augers, with modular designs ensuring easy installation, operation, and maintenance.
To last many years. The parts are galvanized or powder painted for corrosion resistance. The robust construction of the transmission for the standard engine and correctly dimensioned bearings can ensure long service life. Moreover, Sveaverken uses high-quality materials and advanced manufacturing techniques to produce augers that are built to last.
High turnover. Sveaverken augers are designed to move grains quickly and efficiently, reducing the time and labor required for grain handling. So, they are popular with customer orders in Nordic regions every month.
Versatile practices. Sveaverken augers can handle various types of grains and feed in different directions and angles. And, they are also designed with safety features to prevent accidents and injuries during operation.
To sum up, Sveaverken offers a wide assortment of grain screws and augers that are designed for versatile practices. They are of high quality, customizable, and in good sale around Europe. Moreover, Sveaverken provides one-stop services such as assortment selection consultation, drawings and instructions, on-site installation, and after-sales maintenance. If you are looking for premier farm auger equipment that can enhance your grain and feed transportation efficiency, feel free to contact Sveaverken team and choose the proper capacity and length.