RoboPusher Pro
Visual Navigation Enables Smart Obstacle Avoidance

Real-time Remote Monitoring

2.5 h Fully Charging for 22 h Constant Feed Pushing

High-efficiency Feed Pushing Speed at 18 m/min

Automatic Round-the-clock Operation

Easy Deployment



Smart Obstacle Avoidance
As the world's first visual navigation feed pushing robot, RoboPusher Pro can flexibly adjust its routes in the feeding alley. This is because the obstacle identification capability has been greatly improved by advanced algorithms. As a result, the operation efficiency has also improved.

Long Battery Life and Fast Charging
A 2.5-hour charge can power the robot for 22 hours of nonstop running across cowhouses, keeping the cows in a higher feed intake. The built-in lithium iron phosphate battery not only offers a stable performance, but also a long service life.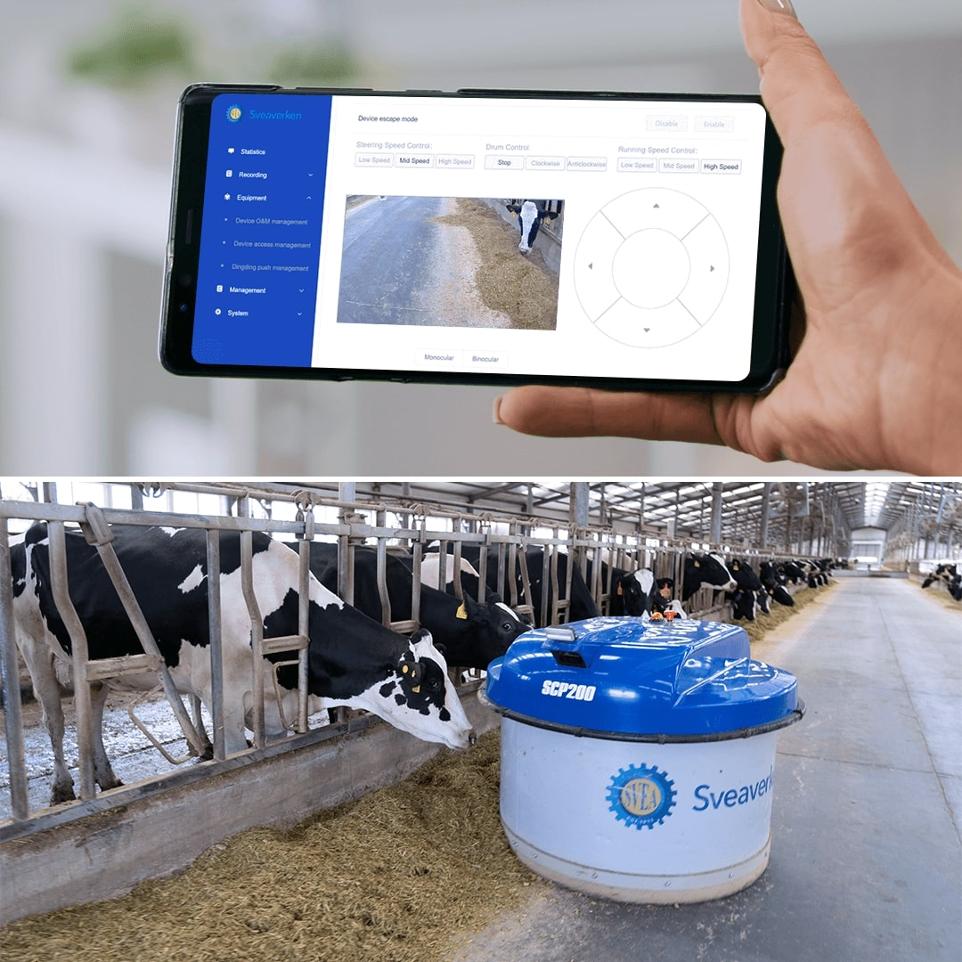 Real-time Remote Monitoring
Thanks to the visual navigation system, you can monitor the cowhouse conditions, such as the robot operation status and cow feeding status, on your smart phone, PC, or tablet, and take your actions accordingly when necessary.

High-Frequency Feed Pushing
With a pushing speed of 18 m/min, the robot increases the feed intake substantially. The bidirectional roller ensures that the feed is pushed in the correct direction, maximizing the feed intake.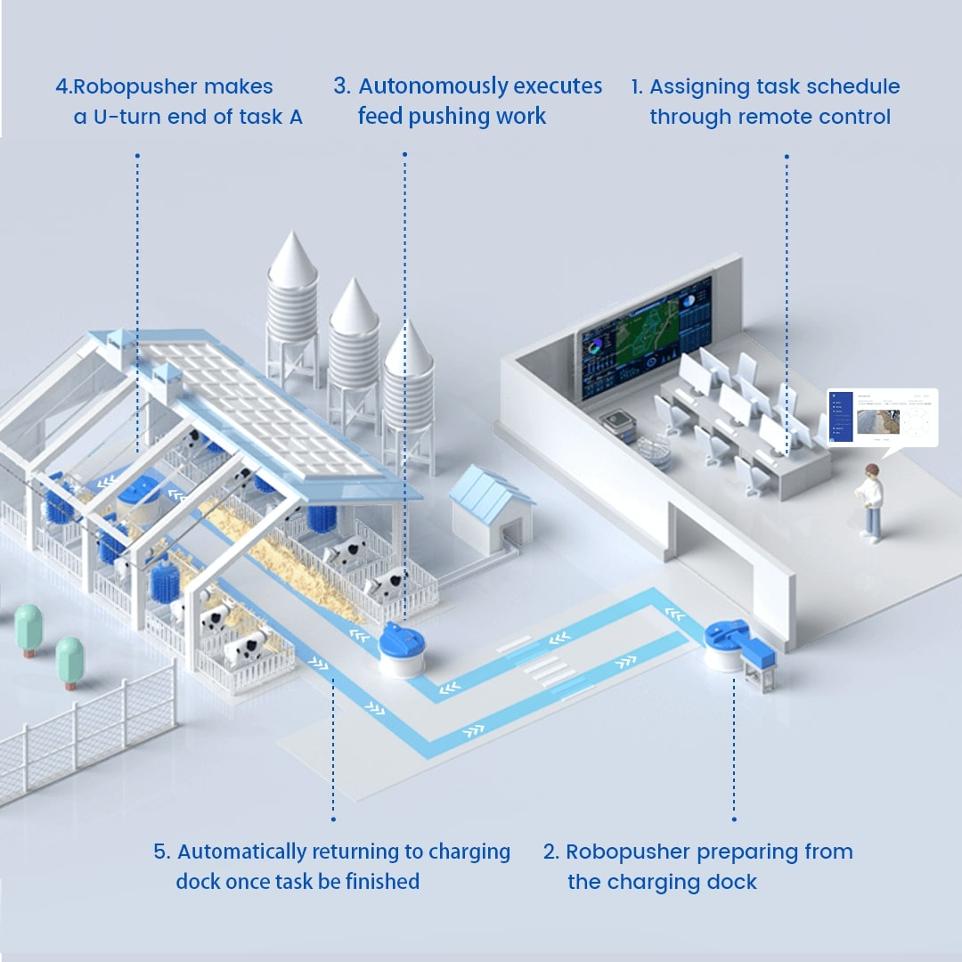 Automatic Operation
Automatic feed pushing reduces the risks of feed contamination and zoonosis transmission, making sure that there is continuous supply of feed pushing in front of the cows. This helps increase feed intake. The robot will automatically return to the charging station when the power is low, which enables you to focus more on other important things.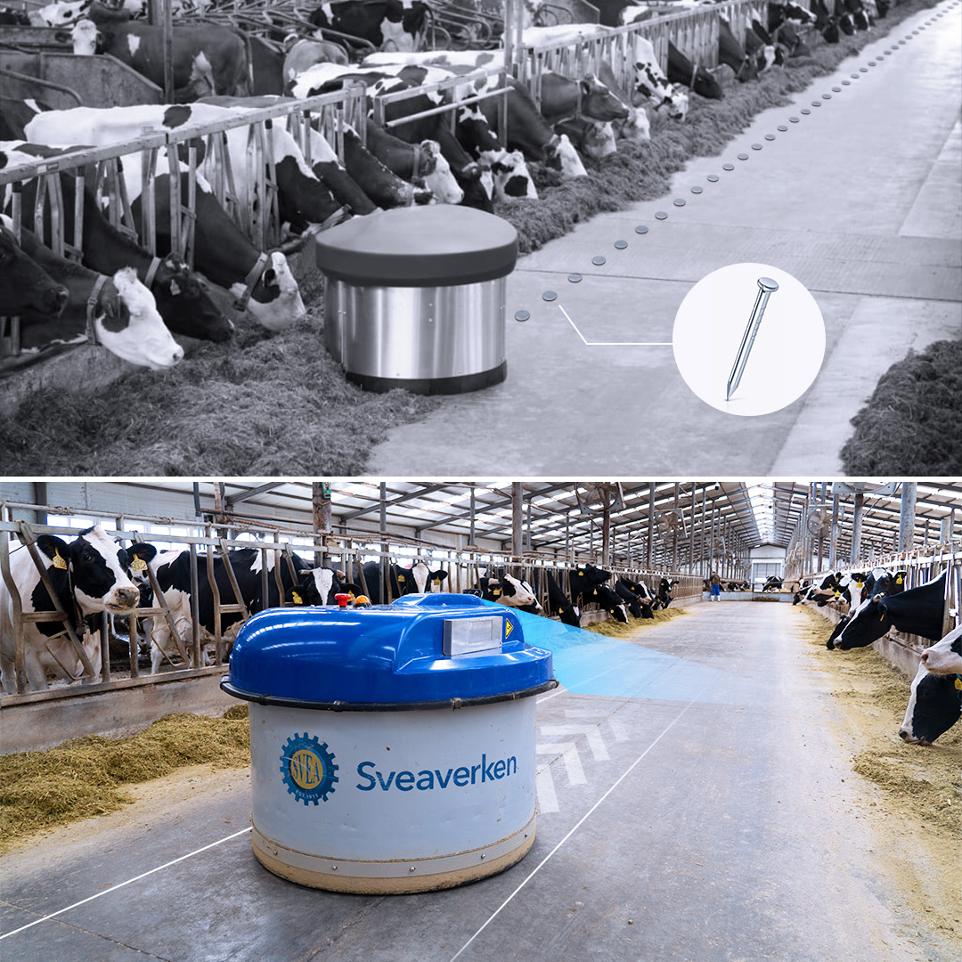 Easy Deployment
You do not need to deploy magnetic nails in the feeding alley where the robot travels with visual navigation. This saves cost and time comparing with the traditional ways.

Product Name

: RoboPusher Pro

Model

: SCP200

Diameter

: 1325 mm

Height

: 1022 mm

Weight

: 400 kg

Max. Travel Speed

: 18 m/min

Max. Slope

: 6°

Working Temperature

: -20℃~55℃

Number of Wheels

: 3

Driving Wheel

: 2×Ø250×80 mm

Driving Motor Quantity

: 2

Driving Motor Power

: 400 W

Drum Motor Quantity

: 1

Drum Motor Power

: 120 W

Battery Type

: Lithium Iron Phosphare Battery (LFP Battery)

Normal Voltage of Battery

: 48 V

Battery Capacity

: 80 Ah

Charger Input Voltage

: 220 V

Charger Input Frequency

: 45~65 Hz

Charger Output Voltage

: 48 V

Charger Output Current

: 0~40 A

RoboPusher Pro is Suited to Your Cowhouse