Cattle, just like humans, can benefit from massage services. Providing cows with regular grooming can greatly improve their welfare and even increase milk production. Let's explore the benefits of using cattle brush for animal welfare and profitability, and see its performance in Compass Ranch.
Benefits of Cattle Brush on Milk Yield
A field experiment conducted by a ranch revealed that using cattle brush can significantly increase milk production and reduce the incidence of mastitis. The experiment involved four cowsheds with 100 cows each, divided into two groups. The first group, consisting of fresh heifers, was divided into two barns, one with a cattle brush and the other without. The second group, consisting of milking cows, was also divided into two barns, with one having two cattle brushes and the other without.
After nine months, the results showed that daily milk production increased by 3.5%, and the daily milk production of second-parity dairy cows increased by about 1 kg. The incidence of clinical mastitis in dairy cows with second or more births also dropped by 34%. Apart from increasing milk production and reducing the incidence of mastitis, grooming dairy cows also has other benefits, such as making them more relaxed physically and mentally, encouraging feed intake, and giving them healthier skin and shinier coats.
Farm Equipment for Ranch Management
Compass Biotechnology (Xinjiang) is a biotechnology developer focused on genomics applications on the industry side. Its agriculture and animal husbandry project mainly does verification and system optimization work from pilot tests to large-scale industrialization. Many of its products have been further developed for sustainable and consumable use by industrial technology.
Compass Ranch started to apply Sveaverken cow brush in the cow yards on July 11, 2022. According to the ranch manager, the cow brush has greatly improved the cows' welfare, promoting blood circulation, keeping their skin clean, removing excess dust and dirt, and making them physically and mentally healthy. As a result, milk production has increased quickly. Sveaverken rotating cow brush has a built-in high-sensitivity inclination sensor, which can automatically start and stop when touched by cows to a certain angle. It is very simple for cows to learn within one second. This is of great help to their research on animal and plant genetics and breeding projects.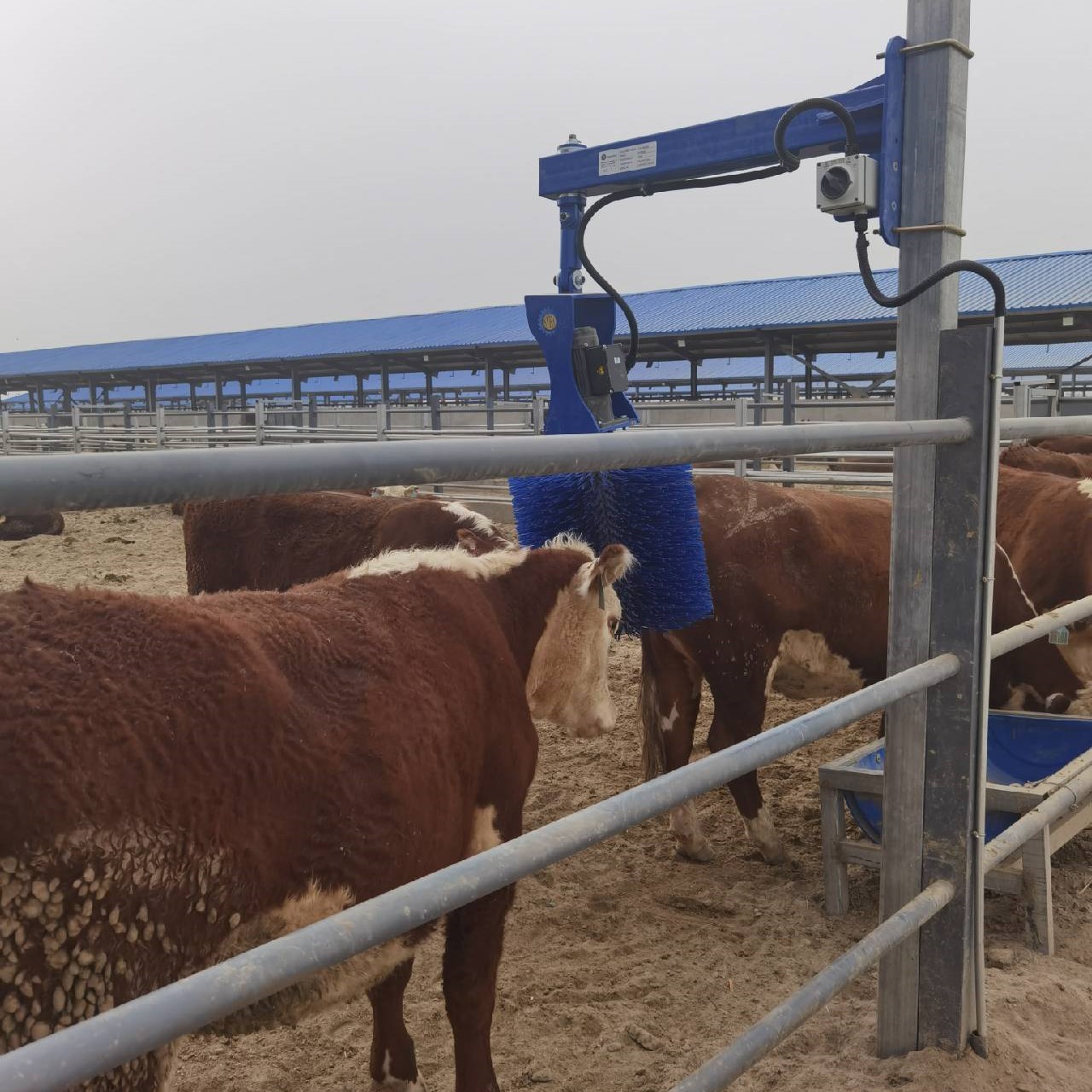 Gentle and Ultimate Massage Experience for Cows
From the observation, the use of Japanese NSK bearings and wear-resistant nylon brushes provides cows with durable and strong brushing services without scratching their skin. The patented rebound design provides rotational recovery force, increases the friction between the bristles and the animal, and makes the brushing more powerful, giving cows an extremely comfortable massage experience. The cow brush conforms to the scientific design of the cow's body structure and behavioral habits. It uses high-wear-resistant material gaskets, 15dB ultra-low noise, and runs more quietly, which will not affect the cow's bed rest.
Clearly, a cow brush can make a huge difference in your dairy farm's performance and profitability. Providing cows with regular grooming by cattle brushes can greatly improve their welfare and increase milk production. With smart farm equipment, ranchers can manage cows better to achieve sustainable development.
Don't miss this opportunity to give your cows the best care possible and boost your dairy farm's productivity and profitability. If you're ready to try Sveaverken's automatic cow brush for your dairy farm, feel free to contact us through email at sales@sveaverken.com or get a quick quote. We offer fast delivery, competitive prices, and excellent customer service.